Tower Behavioral Health offers Resiliency, a specialized inpatient program for individuals age 14 and older who are struggling with symptoms of eating disorders. Through evidence-based interventions and individualized care plans, we can help you understand your diagnosis and work toward long-term recovery. 
Eating Disorders Program Overview
Resiliency, Tower Behavioral Health's inpatient program for individuals who are living with eating disorders, provides comprehensive care for patients age 14 and older. Some of the most common disorders we treat include: 
Anorexia

 

Bulimia

 

Binge-eating disorder

 

Avoidant Restrictive Food Intake Disorder
Other Specified Feeding and Eating Disorders (OSFED)
Each patient in this stand-alone program receives a personalized care plan that we create based on the results of a thorough assessment of their needs, strengths, and goals prior to admission. Most patients spend an average of 14–28 days in Resiliency, but your length of stay will depend on your progress and any needs that may arise during your time with us. 
Types of Treatment
In Resiliency, we use a combination of evidence-based psychological, medical, and nutrition therapies.  
Our goal is to create a safe and supportive environment for you to learn and practice new skills that will help you restore health and balance in your life. Your personalized care plan, which will contain elements that are unique to your own healing journey, may include: 
Basic medical care

 

Medication management services

 

Individual therapy three times per week

 

Family therapy twice per week

 

Group therapy six times per day

 

Experiential therapy as needed

 

Individual nutrition counseling

 
Individual therapy sessions are designed to allow a person to focus on understanding stressors that contribute to signs of eating disorders and developing strategies to better manage stress. Family sessions can help clarify the context of a patient's struggles, defining areas of conflict and beginning the process of resolution. 
The main therapeutic component of Resiliency is our group sessions. In addition to allowing you to focus on your own recovery journey, these sessions will give you an opportunity to hear from others who have experienced similar struggles and are working toward better health. Topics include: 
Affect modulation

 

Anger management

 

Anxiety management

 

Assertiveness

 

Body image

 

Cognitive disorder

 

Conflict resolution

 

Family boundaries

 

Mindfulness

 
Art and movement therapy, along with other experiential therapies, may be included in your six daily group sessions. 
One of the most vital components of Resiliency is our individual nutrition counseling. Patients meet twice per week with a program-registered dietitian, who will assess your current needs and coordinate with our medical director to prescribe a meal plan. 
During counseling sessions, our dietitian addresses cognitive distortions about nutrition and food while also planning for meal management after discharge. When your time with us is complete, the dietitian will meet with you to make sure that the meal plan is agreed upon and that relevant family members are able to assist in your continued nutritional compliance. 
Educational Support
In addition to our comprehensive clinical services, Resiliency patients also benefit from strong educational support. 
During the school year, patients who are in middle school or high school receive two hours of instruction each day from a certified teacher. The teacher has a dedicated classroom on the unit where they meet with patients, and they follow the schedule of the local school district. 
The teacher will coordinate with your home school district, ensuring that you learn at your level and keep up academically. Our staff also includes the teacher in daily unit team meetings, which allows everyone to be on the same page academically and clinically. 
Our Experienced Staff
Resiliency's staff is solely dedicated to helping our patients find renewed hope and better health. 
Though each patient's time with us is unique, professionals you may work with include: 
Attending physicians

 

Nurses

 

Registered dietitians

 

Master's-level clinicians

 

Teachers

 
All admissions for Resiliency run through Tower Behavioral Health's assessment center. Our master's-level clinicians, nurses, and medical director will help guide you through this streamlined process so that you can begin to receive the care you deserve as soon as possible. 
Meet the Doctor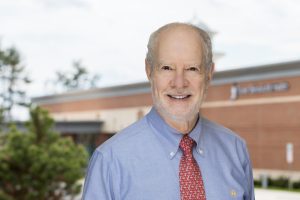 Meet Dr. Michael Pertschuk, MD, our new Medical Director of the Eating Disorder Program. Dr. Pertschuk began his interest in eating disorders while in college at Yale. He continued his studies at the University of Pennsylvania where he earned his M.D. as well as a Master's in Psychology. While a resident in psychiatry at Penn, he was mentored by several professors with expertise in the developing field of eating disorders. Over the years, he has published research on the medical complications and treatment of eating disorders as well as on body image issues. He has directed eating disorders treatment programs in inpatient, outpatient, and partial hospital settings. He is currently a Clinical Professor of Psychiatry at Drexel University. His media credits include Good Morning America, Oprah Winfrey and Dr. Oz. He and his wife have five grown children, five grandchildren (and counting). He is very fond of cats and shares his home office with a tortoise shell cat and an African Grey parrot. Dr. Pertschuk most recently joins us from Tower Health Brandywine Hospital, and he will assist us in the development of our new Eating Disorders Program.
This content was written on behalf of and reviewed by the clinical staff at Tower Behavioral Health.